Summer Art Camp
Introducing Youngsters to Creative Expressions
Summer Arts Camp will not take place in 2018. Alternative offerings for children this summer are in development.
Highlights of the 2017's activities are found on by clicking here. Examples of previous year's activities appear below.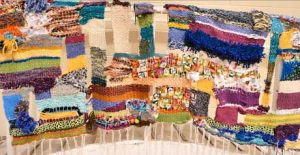 Weaving
2015 Summer Art Campers collaborated on a group weaving project.
Painting
Campers tackled a variety of images in paint.
Abstract Art
2015 art campers were introduced to abstract art.
SaveSave