Hampshire Highlands Arts & Music Festival 2022
The 4th Annual Hampshire Highlands Arts & Music Festival is now history–2022.
The weather was delightful and participants enjoyed the many activities from a wide variety of music by talented local and visiting musicians, hands-on environmental activities focused on Water, demonstrations and artists at work including the 1st Plein Air "Quick Draw" Competition and sale.
The winners were Holly Hinkle, Best in Show. Shown wearing the cowboy hat while working on her painting. Julie Cook won Best Use of Light and Nancy Judd was the Artists' Choice winner.
A few of the highlights: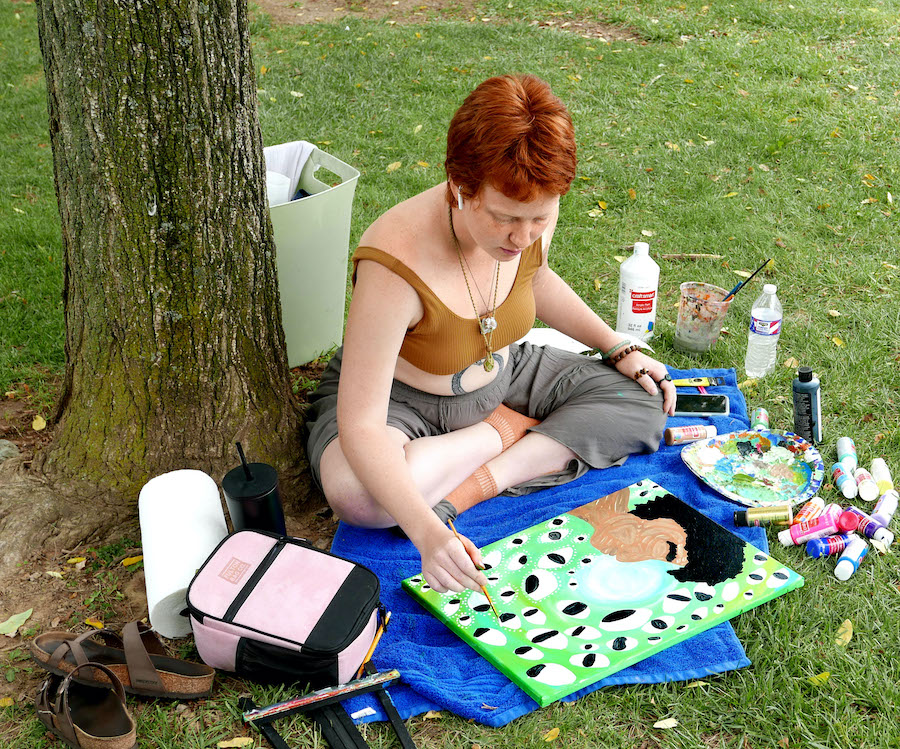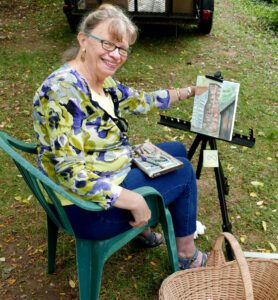 Hampshire Ukulele Club with toe-tapping sing-alongs

Dew Drops In puppet shows by All Hands In Puppeteers will explain the need to conserve water so we all have enough clean water.
Honeybee Choir sings Celtic, pop, show tunes, and more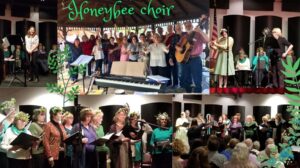 Expressions Dance & Tumbling Exhibitions

Water Cycles Multi-media Demonstrations by Ben Townsend at Mytinger House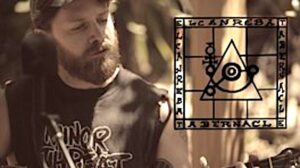 Centerfire Bluegrass, an up-and-coming 3-piece Bluegrass band
Madison Wrye, singer/songwriter, back by popular demand with her classics.
Open Mic Battle Winners from Friday night's The River House's competition
Davis Bradley duo combines bluegrass, old time, and swing influences, creating a dynamic sound of strings and harmonies; dueling banjos.
Stephanie R. Fulcher – Landscape/Wildlife Paintings in Acrylic
Steve Humphrey – "Fish Candy Lures"
Tina Lee – "Wild and Wonderful Essentials:
James Yon– "Salty Patriot Woodworks, LLC"
Jena Uhrich and Patti Wilson – "Farmhouse Quilting"
Cara Diehl – "Lily's House Beadwork"
Nancy Judd – "Country Painting"
Jane Nelson – "Violet Moon Candle Co."
Monika Fullmer – Woodslice Ornaments, Relish and Jams, 100% Cotton Dish/Washcloths
Kathryn Turner – "Kat Turner Fine Art"
Jessica Bryson – "Holistic Creations"
Cynthia Black – Cartonage, Kusudama Ball Ornaments, Cross Stitch Ornaments
Jade Harvey – "Jadeworks Studio"
Tanda Adams (Linde) – "Types and Shadows"
Danny Berne – 3D Model Designer
Kimberly Garver – "Cabin Run Trading Post"
Bonnie Robison – "Ferguson Fyfe Knitter"
Bruce Robison – "The Naked Grape"
Cindy Cole Fulton – "Zizzah! Boutique"
DeAnna Blackwell – "Wild Nettle Apothecary, LLC"
Robin Pancake – Stained Glass
Jim Morris – "Backporch Banjos"
Many Thanks to our Festival Advertisers & Sponsors
*** Click to Visit our Advertisers ***
1st Rate Plumbing
American Insurance Center
Anderson's Corner
B. W. Hill Insurance
The Bank of Romney
Capon Bridge Founders Day
Capon Springs and Farm
Eastern Building Supply, Inc
Expressions Dance & Tumble Studio
FarmHouse Studio
Fish Candy
FNB Bank
Michael Gallahan
Gina's Soft Cloth Shop
Hampshire County Arts Council
Hampshire County Co-op & Market Place
Hampshire County Convention and Visitors Bureau
Hampshire County Democratic Club
Hampshire County Recycling Cooperative
Highland Arts Unlimited
Hampshire Honeybee Music Studios
John D'Amico Studios
Koolwink Motel
Lambert Drug Store
Priscilla LeMaster
Potomac Eagle Scenic Railroad
Romney Diner
Romney Federal Credit Union
Delegate – Ruth Rowan
Seeds of Grace Acres
South Branch Inn
State Farm Insurance
The Bottling Works/Loy Foundation
The River House
The Inside Scoop/Gig's BBQ/Brushy Ridge Farm
Tim Nichols, Dentist
Would You Like to Participate Next Year?
Contact Joanne Snead at ‭(304) 298-3039‬