2020 Spring Fine Arts Show
March 7th to March 28th at the Hampshire County Public Library – Romney, WV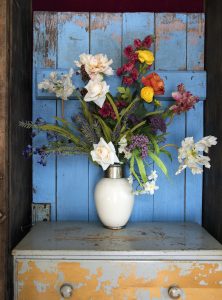 Artist Awards
$500 – First Place
$250 – Vincent Melzac Memorial Award
$150 – Third Place
$50 – Up to 5 Honorable Mention Artists
Awards will be presented at the Opening Reception
The 2020 Spring Fine Arts Show is open to all U.S. artists age 18 and older. All original work from is eligible if it has never been submitted to an HCAC judged event.
Entries in the following media will be accepted: painting, watercolor, drawing, mixed media, printmaking, ceramics, sculpture, carving, textile, glass, wood, metal work, photography. Two-dimensional work must not exceed 3ft in width & 3ft in height, and must be ready for exhibition and ready to hang by wire. We are not able to accept work that requires suspension from the ceiling. Textiles may be larger if they can be folded for display. Work to be hung must not be over 15 pounds. Three-dimensional work must not exceed 4 feet in any direction or weigh more than 100 pounds. Depending on size, they will be placed on pedestals or on the floor for display. All work must be labeled with the artist's name, title, short description, & price.
The HCAC screening/registration panel will serve as the final authority on eligibility. All art is expected to be displayed throughout the length of the Fine Arts Show. Work submitted should be considered for general viewing audiences of all ages.
Fee, Entry, & Pick-up Procedure:
HCAC members fee is $20 and $30 for non-members. The Fee allows up to three entries. All art work must be brought to the Hampshire County Public Library, Romney, WV. The entry form will be available at the Library and online CLICK HERE.
Both Entry Form and Art must be brought to the Hampshire County Public Library on Saturday March 7, between 10:30 am and 3 pm.
Artists must pick up their work on Saturday, March 28, between 10:30 am and 2 pm.
CONTACT
For more information contact Ibi Hinrichs at 703-655-1767 or email at visualarts@hampshirearts.org
Art work accepted
Saturday 03/07/20 from 10:30 am to 3 pm
Opening Reception
Friday 03/13/20 from 5pm to 7:30 pm
Exhibit Open
March 9th to March 28th during normal HCPL hours
Art work pick up
Saturday 03/28/20 from 10:30 am to 2 pm
Location
Hampshire County Public Library
153 West Main Street
Romney, WV 26757
This Year's Judge
We are extremely pleased to have Michael Timothy Davis of Shepherdstown, WV. as our 2020 Fine Art Show judge.
Michael is a West Virginia native and graduate of Shepherd University located in Shepherdstown, WV.
After earning his BFA in Painting he continued his studies at the Schuler School of Fine Art in Baltimore, MD where he learned the skills and techniques associated with classical realist painting. He teaches at Badgerhound Studio and Gallery in Shepherdstown WV, in a quiet and relaxed setting, where both beginners and advanced artists can push their craft to the next level by developing observational drawing and painting skills in the classical method of old masters.
Michael has been a finalist in The Art Renewal Center's Annual International Salon for the past 5 years, a finalist in The Portrait Society of America's Annual Portrait Competition, and an Honorable Mention in The Artist's Magazine Annual Still Life Competition.
For more info visit http://www.michaeltimothydavis.com/
Each artist is responsible for the insurance of their art. Neither HCAC nor the Library assumes any responsibility.
Sales
Sales are encouraged and all works are assumed to be available for purchase unless designated "Not For Sale" (NFS).
The artist is responsible for ALL details of the sale including delivery of the work to the buyer after pickup on March 28
Note: items are to remain in the Show until March 28.
A 20% commission is to be paid to the HCAC by the artist for each sale by April 14, 2020. Commission checks should be mailed to HCAC, PO Box 624, Romney, WV 26757.