Kristen Colebank is back offering a new three-part series of watercolor classes for HCAC. "Watercolor lies at the confluence of pigment and paper, a study I've been devoted to for several years," Kristen writes in the introduction on her website, and she says she enjoys sharing this study with her students so they can find success on their creative journeys.
"Know Your Watercolor Pigments" is the first session and will consist of exercises and activities to learn how pigments behave, their characteristics, etc., which is invaluable for knowing how they will work together when mixing colors and achieving special effects.
The second session is "Wet and Wild," where exercises and some loose suggested landscapes will encourage students to let their colors and washes mingle on paper. Kristen offers this session as she has observed that "this is the number one thing I've seen from developing watercolor painters…. they are hesitant about getting enough water into their mixes and letting the water do its thing, and that's really where the magic of this medium lives."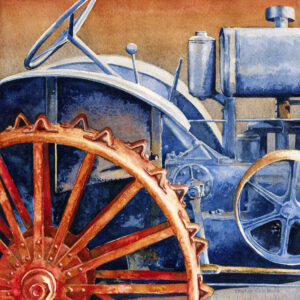 Lastly, "Bits and Pieces of the Landscape" (which will be organized as a Saturday workshop) will examine typical elements of a landscape painting — skies, trees, grassy areas, and bricks and stone — and students will learn strategies for painting those subjects.
The three sessions together are designed as a next step for those who have had some previous experience with watercolors and will provide students with a toolbox of skills they can apply to their own projects. (Don't worry if you feel like a beginner,
Students will bring their own watercolor materials (a list of suggested supplies will be provided in advance).
The first two sessions are set for Tuesday afternoons, Sept. 12 and 19, from 4 to 6:30 pm in Studio 203 in the Brannon Building on the WVSDB Campus in Romney. The third session will be a workshop in Room 203 on Saturday, Sept. 23 from 9 a.m. to 2:30 p.m., with a half-hour lunch break. Fees for the classes are: Session 1 – $30, session 2 – $30, and the session 3 workshop – $55. The separate costs are offered for those who can't commit to all three sessions. To have the full experience, a discount package price is offered for all sessions at $90.
To learn more about Kristen and her artwork, go to https://waitesrunstudios.com.
For more information or to register for the classes, email classes@HampshireArts.org or call Dale at 304.834.8369.