Hampshire County, West Virginia, has a wealth of talented visual artists and loves to show them off in the community! Toward that end, the Hampshire County Arts Council offers a number of opportunities.
Art in Public Places is an on-going effort to present individual and joint exhibits in various public locations in the county, including lobbies of The Bank of Romney and FNB Romney and the Romney Federal Credit Union. Check operating hours of those locations to view. Artists interested in participating in that program should email 639klc@gmail.com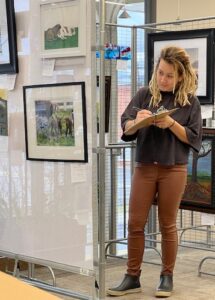 An Annual Fine Art Show invites entries from both within the county and neighboring communities with award selections by a judge from outside the county for cash and honorary awards. For current winners and information on the next Art Show, click on https://hampshirearts.org/spring-fine-art-show-2023/
Some member visual artists choose to have a Member Artist Page on this website to display work in the Members Showcase. Anyone wishing to have such a page can email info@HampshireArts.org for information.