Bringing the Arts to Life
In Hampshire County, West Virginia
The Hampshire County Arts Council fosters the creation, presentation, and enjoyment of the arts in our community.
HCAC sees the arts as an integral part of daily life. An art-rich environment enhances the quality of life for residents and visitors and encourages the development, recognition, and appreciation of local performers, musicians, artists, and writers.
Up Next… see what's happening in and around the Hampshire County Arts Community.
Hampshire Highlands Arts & Music Festival 2019
Saturday, September 14, 2019
from 10 am to 8 pm in Romney, WV
Mark your Calendars!!!
Come and join us for a fun filled day in Hampshire County at our 2nd annual Hampshire Highlands Arts & Music Festival.
The Hampshire County Arts Council will showcase the areas many talented artists and musicians in a crowd pleasing festival.
Shows, Music Performances, Hands On Activities, and Demonstrations are just a few of the activities scheduled sure to delight all ages.
Blue Belles – Picture Perfect
The B-Belle's mural design is now complete! Come have some fun and step back in time with the photo-op heritage cutouts. John D'Amico the designer and creator joins Charlie Snead to ensure that the cutouts, Anna and Ashley, are positioned just right. Naturally, they had to take a picture and try them out.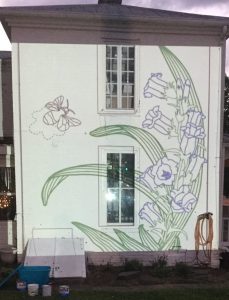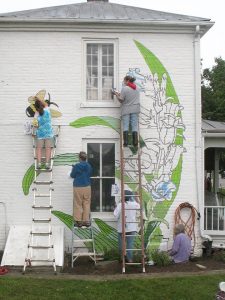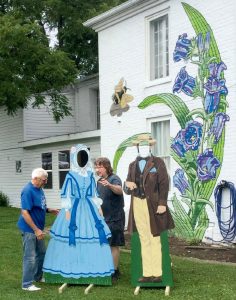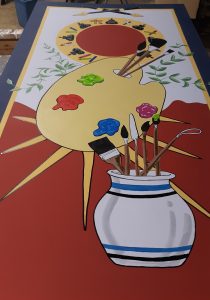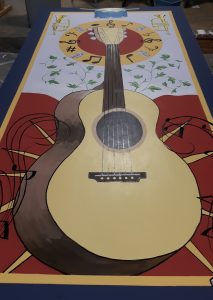 Call for Volunteers – The Romney Project
Come join the Mural Team and have some fun by helping the town come alive with color. HCAC / Romney Project is currently working on new murals at the Co-op building in Romney and we NEED YOUR HELP!
The Co-op's Main signage is being designed and painted, right on the building wall, by local artist Julie Cook. There are also several 4 x 8 foot panel designs that will be painted as well. If you are interested in volunteering contact John D'Amico at johndamicostudios@gmail.com or 304-822-4437. The more people, the merrier…. So come and make your permanent mark on the town or Romney.
Time to Renew Memberships
The Hampshire County Arts Council's membership year runs from April 1 through March 31 each year, with membership renewal in April. For On-Line Renewal Click Here or send your check to Hampshire County Arts Council, P.O. Box 624, Romney, WV 26757.
Thank You!
The Hampshire County Arts Council sincerely thanks our faithful sponsors whose contributions allow us to offer the community many events each year.
Augusta Animal Hospital
The Bank of Romney
FNB Bank
Staggers & Staggers
William Lipps, CPA
Gayle Borchers
Bob And Sally Caiola
Wendy & Roger Anderson
Sheila Melzac
Kimberly Sykes
Receive ArtsAlert News Letter
You Can Help!
The Hampshire County Arts Council earns a penny every time you search the Internet using GoodSearch.com, a search engine (powered by Yahoo!) that donates half its revenue—about a penny per search—to the charities its users designate. Use as you would any search engine.
Go to www.goodsearch.com and go to the "participating non-profits" and "West Virginia" list to find us as the charity you want to support. Just 50 of us searching four times a day will raise about $730 in a year without anyone spending a dime! Please try it out, and spread the word! HELP US SPREAD THE WORD!
More Ways To Help
If you shop on Amazon, you can designate Hampshire County Arts Council to benefit from your purchases. Amazon Smile