Bringing the Arts to Life
In Hampshire County,
West Virginia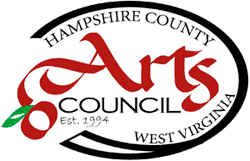 The Hampshire County Arts Council fosters the creation, presentation, and enjoyment of the arts in our community.
HCAC sees the arts as an integral part of daily life. An art-rich environment enhances the quality of life for residents and visitors and encourages the development, recognition, and appreciation of local performers, musicians, artists, and writers.
Up Next… see what's happening in and around the Hampshire County Arts Community.
DID YOU KNOW????
Hampshire County Art Council offers up to $500 in Musical Grants to Non-Profit 501-c-3 Organizations and Schools. Up to See if you qualify… for more information visit Music Grant Application
Hampshire House of Horrors
A Word of Thanks from the Romney Project Team
The first annual event to benefit the Romney Project for Murals went off without a hitch! J A Cook and John D'Amico were instrumental in leading the effort to design the floor plan and to build the sets that filled the garage at The Bottling Works in Romney. There was a total of 20 sets that featured a Grave Yard, a Nursery, a Pirate Ship, Creepy Spiders, The Mad Doctor, Insane Patients, and The Butcher with a Half Body. The sets were mainly constructed with common materials like pallets, landscape cloth, ribbons, a couple of black lights, strobe lights, and a few other knick-knacks here and there. Countless quantities of paint, staples, screws and extension cords were also used to construct the maze that lead visitors from one spooky scene to another.
The construction started in the beginning of September and continued over a period of 6 weeks. There were many volunteers that gave a helping hand to build the sets and over 30 Guides, Actors, Boos, and Organizers that participated each night (rain or shine) during this four-day event.
A BIG THANKS to The Bottling Works for letting us use their space and a special thanks to the business contributors at Eastern Building Supplies, Shaffer Funeral Home, and Hometown Solutions of Augusta. Many thanks to the volunteers for their hours spent in the design, construction, participation, and decommission phases of this event. But most of all… we thank the great town of Romney and all the brave souls that enjoyed the Hampshire House of Horrors this year. Your contributions and donations are truly appreciated.
The Cabin Jammers
One night only at The Hampshire Co-op in Romney, WV
Local musicians getting together for a Toe Tapping variety of music. Bring your Dancin' Shoes!
Join us at 7pm on Saturday, November 16th for a concert that will be sure to please. There is no charge for this concert but donations are appreciated to benefit the Romney Backpack Program.
Backpack food programs provide nutritious, non-perishable, easy-to-prepare food to children with a mission to ensure they get enough food on weekends and holidays. The program's goal is to avoid hunger when children can't depend on school meals.
Donations for the Backpack Program can be made at anytime. Please mail your check to FNB Bank, PO Box 1037, Romney, WV 26755 or stop by the FNB Bank at 105 N. High Street in Romney. Your help is always appreciated.
For more information visit The Backpack Program
Time to Renew Memberships
The Hampshire County Arts Council's membership year runs from April 1 through March 31 each year, with membership renewal in April. On-Line Renewal is available or send your check to Hampshire County Arts Council, P.O. Box 624, Romney, WV 26757.
Your Donations are Appreciated
The Hampshire County Arts Council values our sponsors that are dedicated to continuing the art culture in and around Hampshire County, On-Line Donations are available or send your check to Hampshire County Arts Council, P.O. Box 624, Romney, WV 2675
Thank You!
The Hampshire County Arts Council sincerely thanks our faithful sponsors whose contributions allow us to offer the community many events each year.
The Bank of Romney
FNB Bank
Pam Eddis-Klein
Staggers & Staggers Law Firm
Sheila Melzac
Gail Borchers
Tim & Beth Reese
Melissa Snell & Larry Manning
Ed & Cheryl Ferguson
Roger Anderson
LOY Foundation
Koolwink

Spring

Valley Farm & Orchard
Nancy Townsend
Receive ArtsAlert News Letter
You Can Help!
The Hampshire County Arts Council earns a penny every time you search the Internet using GoodSearch.com, a search engine (powered by Yahoo!) that donates half its revenue—about a penny per search—to the charities its users designate. Use as you would any search engine.
Go to www.goodsearch.com and go to the "participating non-profits" and "West Virginia" list to find us as the charity you want to support. Just 50 of us searching four times a day will raise about $730 in a year without anyone spending a dime! Please try it out, and spread the word! HELP US SPREAD THE WORD!
More Ways To Help
If you shop on Amazon, you can designate Hampshire County Arts Council to benefit from your purchases. Amazon Smile