Bringing the Arts to Life
In Hampshire County,
West Virginia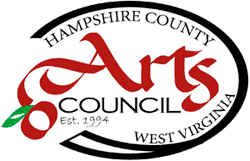 The Hampshire County Arts Council fosters the creation, presentation, and enjoyment of the arts in our community.
HCAC sees the arts as an integral part of daily life. An art-rich environment enhances the quality of life for residents and visitors and encourages the development, recognition, and appreciation of local performers, musicians, artists, and writers.
Up Next… see what's happening in and around the Hampshire County Arts Community.
Coming Soon…. Hampshire House of Horrors
Save the Dates
Friday 10/25/19 from 7 pm to 10 pm

Saturday 10/26/19 from 7 pm to 11 pm

Wednesday 10/30/19 from 7 pm to 10 pm

Halloween 10/31/19 from 7 pm to 11 pm
The Romney Project committee is working hard on creating a 'terrifically terrifying' experience for those who dare enter the haunted house on four special days during Halloween week.
The theme is inspired by Steven King's "IT Chapter Two" which is a thriller smashing the movie box offices throughout the country this Halloween season.
The masterful and creative hands of John D'Amico and JA Cook are designing scenes that will lead you up to a grave yard with a crypt and larger-than-life Moth Man. Once you enter the house you will experience the thrills and chills of the Haunted Attic, an Insane Butcher that may not be selling prime cuts, the Mad Doctor that does not do house calls, and so much more. Just when you think you are safe, Pennywise will be in attendance with a few red balloons.
All are welcome to join the Romney Project Team for the Construction, Set-Up, Participation, and Decommission of the haunted house this year. Volunteers are needed for each Phase of this project:
Construction – build scenes and props
– Every Saturday from 09/27 to 10/19 at 10 am at The Bottling Works Parking Area
Set-Up – scenes will be put in place at The Bottling Works
– Set-up of display Starting on 10/12
Participation – be part of the action at the Hampshire House of Horrors
– Participating in backstage and active displays on 10/25, 10/26, 10/30, 10/31
Decommission​​​​​​​ – help tidy things up
– Removal of displays and clean-up on 11/1 and 11/2 at 10 am at The Bottling Works.
If you are interested in volunteering contact:
Julie Cook – designjc2@gmail.com or
Joanne Snead – joanne_snead@yahoo.com or
John D'Amico at
johndamicostudios@gmail.com

.
Groups, Clubs, and Schools are welcome to volunteer their time.
Hampshire Highlands Arts & Music Festival 2019
A Day to Remember !
Our 2nd Annual Festival was a great success because of all of you!!! Many joined the fun with a larger attendance than last year and a whole lot more families and children of all ages…. We estimated about 500+ people in attendance.
There were 18 artists displaying/selling a wide variety of their creations and even a glass-blower demonstrating this year. We also had 7 non-profit groups who provided information, offering games and art activities, as well as not profit food vendors and the delicious Lost Mountain BBQ.
This year's theme was 'Reusing, Recycling, Re-purpose' which was echoed in the entertaining Puppet Show performance. The show was enthusiastic and embraced by both children and adults alike. The crowd participated in bubble making, butterfly tile painting, crafts from recycled material, and so much more…. Did I forget to mention the MUSIC!!! The Ukulele Club started the day's musical performances off with a strummin' and sing-a-long of some favorite melodies. The gazebo was a shakin' and a rockin' throughout the day and the jazz concert in the evening was a perfect end to a perfect day.
Did you see the works of art by Chihuly, Monet, Dali, and Picasso?
Some of the comments we received…. "A great celebration of art and music" "Wonderful, friendly venue! (with a heart)" "Loved it, hope it gets bigger".
A BIG THANKS to the Artists and Art Community, all the Planners, Organizers, Volunteers, Advertisers, Sponsors and Vendors that made this festival happen. But most of all… we thank the great town of Romney… and all of you that have wondered across our path and made the day a special one.
The Romney Project and the Co-op Murals
The Mural Team has been busy painting, constructing, scrubbing, and painting the first two murals that were hung on the Co-op's brick wall on the side of the building. The signage was at the skillful hands of John D'Amico and JA Cook. Thanks to all of the volunteers that put their mark on Romney and moving the Hampshire County Art Council and the Romney Project one step closer to seeing a vision come to a reality.
Currently the team is working on the Hampshire House of Horrors. The proceeds from this event will help us finish and hang more murals.
For now, the Mural Team will be taking a break and will resume after the New Year, or maybe in the spring. We'll keep you posted.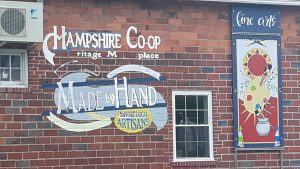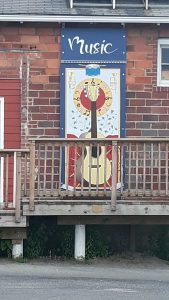 DID YOU KNOW????
Hampshire County Art Council offers Musical Grants to Non-Profit 501-c-3 Organizations and Schools. For more information visit Music Grant Application Form
Time to Renew Memberships
The Hampshire County Arts Council's membership year runs from April 1 through March 31 each year, with membership renewal in April. On-Line Renewal is available or send your check to Hampshire County Arts Council, P.O. Box 624, Romney, WV 26757.
Your Donations are Appreciated
The Hampshire County Arts Council values our sponsors that are dedicated to continuing the art culture in and around Hampshire County, On-Line Donations are available or send your check to Hampshire County Arts Council, P.O. Box 624, Romney, WV 2675
Thank You!
The Hampshire County Arts Council sincerely thanks our faithful sponsors whose contributions allow us to offer the community many events each year.
The Bank of Romney
FNB Bank
Pam Eddis-Klein
Staggers & Staggers Law Firm
Sheila Melzac
Gail Borchers
Tim & Beth Reese
Melissa Snell & Larry Manning
Ed & Cheryl Ferguson
Roger Anderson
LOY Foundation
Koolwink

Spring

Valley Farm & Orchard
Nancy Townsend
Receive ArtsAlert News Letter
You Can Help!
The Hampshire County Arts Council earns a penny every time you search the Internet using GoodSearch.com, a search engine (powered by Yahoo!) that donates half its revenue—about a penny per search—to the charities its users designate. Use as you would any search engine.
Go to www.goodsearch.com and go to the "participating non-profits" and "West Virginia" list to find us as the charity you want to support. Just 50 of us searching four times a day will raise about $730 in a year without anyone spending a dime! Please try it out, and spread the word! HELP US SPREAD THE WORD!
More Ways To Help
If you shop on Amazon, you can designate Hampshire County Arts Council to benefit from your purchases. Amazon Smile