The Romney Project – Painting the Town!

The Romney Project's plan to "Paint the Town" is off to a great start, thanks to a generous donation to their GoFundMe Campaign from Carol Shaw. The first mural, on B Belles' east wall facing Celebration Park, was painted by volunteer artists. After "getting our feet wet" and showing the community how much difference some artistic design and paint can do to transform the looks of the town, we will be ready to tackle our more ambitious historical timeline of Romney mural. If you are interested in helping with future murals, contact Joanne Snead at joanne_snead@yahoo.com or 304-298-3039.
A collaborative group of volunteers from the Hampshire County Arts Council (HCAC), the Town of Romney including the Mayor and the Town Administrator, and concerned and interested business owners and citizens has embarked on an adventure to use art and this history to showcase our town. Our collective love of art coupled with our interest in history led us to this extremely needed effort, namely The Romney Project (TRP) to raise awareness of our town's rich history and culture and uplift the community spirit through arts and education.
Repurpose key demographics with the aim to get buy in. Execute bleeding edge with a goal to disrupt the balance. Leveraging stakeholder engagement to, consequently, improve overall outcomes. Executing below the fold so that as an end result, we make the logo bigger. Demonstrate below the fold with the possibility to innovate.
Romney is West Virginia's oldest town
Romney was established December 23, 1762 and is a pearl in the Hampshire Highlands, waiting to be polished and shown to the world. Inspired by the successes of the arts-driven community awakenings around WV, we will be "painting the town." Not red but with art and activities that will transform the perception of Romney visually, emotionally, passionately and affectionately. You can be a part of our plans and dreams.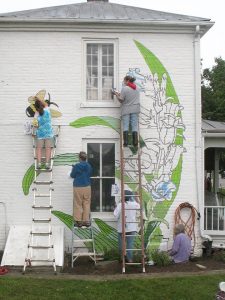 MURALS around town
Multiple Romney business owners have granted permission for murals to be painted on their buildings. A variety of themes are planned depending on the location and the history of the location. John D'Amico, HCAC member and professional commercial artist, along with other local artists, is designing the murals by working with the business owners and TRP members. The signature mural, shown at top left, is a historical timeline of Romney from the early Indian settlements to today and has been proposed for a large building or to be used in parts on a series of buildings. Also shown at left are details of a section in the middle, and the design of the end of the mural showing some of what life is like today, and a design for one shop in Romney.